Vincent Johnson is often referred to as "one of the best golfers to come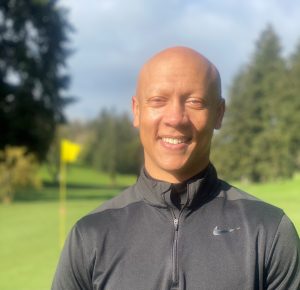 out of Portland." Born in 1986, his father, Daren, was a golf mechanic at Glendoveer. Vincent started playing at 6 and set the course record at Glendoveer West when he was 14. A graduate of David Douglas High School, he won over 60 tournaments as a junior. He graduated from Oregon State University with a degree in finance. On the OSU golf team, Vincent was a 3-time all-academic selection, and won the 2005 NW Collegiate Classic and the 2007 PGA Minority College Golf Championship.
In 2009, after appearing on Big Break, he became the first recipient of Charlie Sifford Exemption for the (now) Geniuses Open. (If you don't know who Charlie Sifford is, please check this out.) In 2010, he won Long Beach Open and began playing on the Advocates Pro Golf Association Tour, where he was two-time was player of the year (2010 and 2011) and won the APGA Tour Championship (Vincent was elected into the APGA Hall of Fame in 2017).
There is a lot more that can be said about Vincent (Umpqua Challenge participant, golf instructor, businessman, pianist), but most important for the purposes of this article, Vincent was appointed the Assistant Director of Golf for Portland Parks and Recreation ("PP&R") in 2016. In 2018, he was appointed Director of Golf, taking over from long-time director John Zoller.
As Director of Golf, Vincent oversees one of the most varied and acclaimed municipal golf complexes in the county. Comprised of over 800 acres, the courses owned by the City of Portland are: Eastmoreland (a Charlie Egan design, seventh oldest course in Oregon and two-time host of the USGA Amateur Public Links Championship), Rose City (clubhouse is on the National Register of Historic Places), Heron Lakes (both Blue and Greenback courses, home of the former NW Open and the 2000 USGA Amateur Public Links Championship), RedTail (located on property leased from the City of Beaverton), and Colwood (a golf practice complex that includes a 3-par course).
Vincent became Director of Golf at a difficult time for the Portland municipal courses. Although historically profitable, rounds played had been dropping (46% between 1994 and 2019), while expenses increased faster than green fees. The Golf Fund, which is an operating reserve funded by green fees and concessioners' payments, went from a balance of $1.5M in 2013 to $300K in 2017. In 2018, right before Vincent became Director, the City of Portland provided an emergency advance of $800,000 to support the courses.
In May 2019, the Portland City Auditor issued a report projecting further decreases in play and revenue and stating concern over the differing types of operation and management contracts among the courses and the lack of oversight and enforcement of those contracts. In response, PP&R drafted an asset management plan that showed a $43 million backlog in maintenance, and annual maintenance cost of $1.9 million.  PP&R also extended the operating contract at Heron to end in 2021, so that the operating contracts at Heron, Eastmoreland, Rose City, and Colwood would all end at the same time.
Covid caused a change in the downward trends of rounds played and revenue. Between fiscal years 2019 and 2020, rounds played went up by 14% and revenue increased by 10%. It is presently projected that rounds played and revenue will continue to significantly increase between fiscal years 2020 and 2021. The substantial increase in revenue will allow some of the maintenance backlog to be addressed . It is unlikely that any revenue from the 2020 Park's levy will be used to address the maintenance backlog.
It is in this environment that I had the privilege of speaking with Vincent.
What was the happiest moment for you when you were participating in all of the circuits (junior, college, and pro)?
A month and a half before I set the course record at Glendoveer, I was playing at Crosswater in a junior tournament. On the second and final round, I shot a 40 on the front 9 and was way out of contention. But on the back [the front 9], I scrambled to save par on the 10th hole and then shot 5 under the remainder of the round to win the tournament by a stroke. It was the best I had ever played 9 holes. That 9 really impacted my development as a golfer.
Another great moment for me was the phone call I received for the Charlie Sifford Exemption. I did send in an application and resume, but I had forgotten about it. When the CEO of Northern Trust [the then sponsor of the tournament] called and asked if I wanted to play, I thought it was a prank call. There was a lot of cheering in the house after that call.
What was your biggest regret?
I started to work with Brian Henninger in 2009. I had minimal formal training before then, and Brian was great.  Seven months later, I won the Long Beach Open. But going into the 2010 off season, I got lost in trying to achieve the perfect swing, and became too critical of myself.
Why did you take the job of Assistant Director?
I could not have found a better fit coming out of a shortened pro career. With my experiences in the golf business and teaching, and knowing where golf had to go, I felt it was a perfect fit, especially in the city where I grew up.
When you were hired in 2016, the public statement was that you would promote a positive engagement for youth and under-represented communities. Have you been able to do that?

Yes, we have made progress. We support Leisure Hour Junior Golf and The First Tee at Colwood.  The pro at Colwood does outings with NAYA [Native American Youth and Family Center], community colleges, as well as women's clinics. We have the EAGLE Caddy program, which provides summer employment opportunities for high school students with financial need. And in 2020, we started the YA Golf PDX program, attracting 20- to 29- year-olds with discounted rates and instruction, loaned clubs, and events. In our first year, we signed up over 1100 members.These programs can connect golf with underrepresented communities. But these are spot programs. Golf is a lifetime game. There are gaps in programming and support as a person progresses from learning the game to playing for life. We need to develop programs for each step.
I have also presented on the history of golf and its relation to women and BIPOC communities, both internally and externally. This was to show how past policies, practices and culture have impacted the game to this day. There is still a lack of women and BIPOC participation in golf and our Golf Program needs to continue to make progress in equity trainings and changing culture. This will be vital in providing a more equitable golf system in Portland.
What was the biggest surprise since taking the Assistant position?
How much people do not know about the benefits that courses provide. Each course is a city asset with multiple benefits for the public. People can come out and use the putting greens for free. They can be loaned a club and try the driving range for not much money. And golf is a sport that can be accessible and not exclusive, where multiple skill levels can play together, that a family can enjoy together. The courses also provide a large amount of green space for habitat, nature and provide environmental stewardship without tax payer money. [The Heron Lakes complex and Eastmoreland are Audubon International Certified Audubon Cooperative Sanctuaries.]
What was the biggest thing that you did not appreciate about the job before taking it?
That it takes so much to make a city go. On the inside you appreciate the coordination needed for operations and responding to so many different things. This past year has highlighted that with the fires and Covid.
The Portland area suffered a severe snow and ice storm in February of this year, where a lot of trees and limbs came down. What were the conditions of courses after the storm?
Rose City and Eastmoreland had a lot of tree loss. Our first priority is player safety, and then look of the course. Our staff was on it quickly, but staff levels were down and that is why it might have been slower to reopen the courses than we all wanted. But overall, the damage was not too bad, just a bit more than what we usually see in the winter.
How do rounds played look for 20-21?
Since Covid, golf rounds have been up 32% program wide. One of the more noticeable differences is with average or below average weather. The weather that would keep more golfers away in the past, they are now playing through. I think Covid is a large factor. On top of that, Broadmoor closed in October, so we expect golf rounds to remain at these higher levels for 2021.
Do you think the increase in rounds will continue after we get over Covid isolation?
Yes. We have been trying to make the golf experience as positive as possible. And I believe that there is an affinity for open space that people have been reintroduced to. Expectation and experience are closely aligned for our customers, which is one key to retention. Also, the closing of Broadmoor should have a lasting impact on the rounds at the remaining Portland courses.
PP&R drafted an asset management plan that showed about $43million in maintenance backlog and $1.9 million in annual maintenance.  Does the maintenance backlog include design changes to the courses or remolding of clubhouses (maybe a new clubhouse at Heron)?
No. The number is only to replace and repair our current infrastructure.
If you had an unlimited budget, what changes would you make to the courses or operations?
I would want to improve access to the game and access to the facilities. Investment in golf spaces would help lower barriers that can keep people out, including the perception of the game. Improvements that help non-golfers and unrepresented communities view golf spaces as viable opportunities to gather and recreate would help the Golf Program grow the game in Portland. Also, with an unlimited budget, increasing staffing would help the overall conditioning of the golf courses.
All of the contracts for the eastside courses (including the Heron courses) now end this year. What is the status of obtaining new contracts?
We have retained consultants to review operations at all of the courses and provide advice on how to move forward. What we have told the consultants is that any advice has to fit our priorities: environmental stewardship, financial stability and sustainability, and increasing equity and participation throughout the golf system.
Do you know the type of contract (concessionaire, lease, management) you want to enter into and if you want all the courses managed with the same operator?
Not at this time.
What is your favorite Portland municipal course?
That's like asking a parent who their favorite child is.
What should people know about Portland municipal courses?
That there are many ways that the courses can serve you. You could play a round of golf without a lot of money, you can rent clubs if you don't have them, and can even use the putting greens for free.  The courses provide a lot of opportunity and a fair value for recreation.
Why should golfers play Portland municipal courses?
Because we have a great municipal golf system. Our courses are affordable, while also being reputable enough to have hosted USGA championships. Public golf courses play a leading role in exposure and access to those new to the game, and the continued engagement and support for established golfers will help us ensure that the game is thriving for the next generation in Portland.
Anything else you would like to add?
It will be interesting to see what the conversation will be 12 to 15 months from now, in terms of financial condition and who and how many people are playing.  Right now, we are doing our best to provide a great experience for people every day.
Prior Articles and Interviews please e-mail info@oregoncourses.com if you would like to view any of the Prior Articles and Interviews:
Audubon Cooperative Sanctuary Program for Golf Courses in Oregon
Oregon Golf in the Age of COVID-19
The Highest Golf Course In Oregon
Earliest Golf Courses in Central Oregon
Improving Diversity on OregonCourses (Parts I and II)